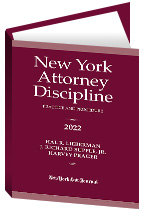 We have updated our book New York Attorney Discipline Practice and Procedure. The new publication is now on sale on ALM's website from the publishers of the New York Law Journal.
The book provides a practical, in depth, and orderly framework:
For lawyers who receive complaints, wish to get admitted to practice, or are subject to discipline
For their lawyers
For staffs and committee members of disciplinary agencies
For consumers of legal services
Read Hal R. Lieberman's Article on Rudolf Giuliani's Interim Suspension.